Alright, so I may be posting this a little late in order to promote the book signing, but the whole thing kind of just materialized out of nowhere anyways.
So, October totally snuck up on me this year.
I knew it was October. I knew Halloween was coming, because me and my daughter have been planning on being Darth Vader and Princess Leia for the longest time now. But the fact that it was October and that it's been 4 years since I first released A New Death into the wilds of the internet, that completely slipped my mind.
4 years.
Isn't it crazy how time just flies by?
4 years ago and I just had this silly idea of self-publishing a zombie e-book amongst a sea of zombie e-books.
Silly, silly Joshua.
Anyways, as I often do, I got somewhat reflective and nostalgic about the past 4 years. My cousin played a small part in it as well, as he is in the process of writing his first novel and asked me a few questions the other day.
Which led to the above video.
I recorded this the day before the book signing, so my apologies for not telling you sooner.
But you can still listen in on the five (now six) things I wish I knew before I published my first novel. These are completely subjective and were really the first things that came to mind when I asked myself the question of what would I have done differently.
1. I wish I would have taken it a little slower at the beginning.
I remember finishing the first draft and the sense of relief and accomplishment I felt. I also remember feeling the impending doom of "Okay, now what?" I knew there was editing, formatting for Amazon Kindle and Barnes & Noble Nook, and promoting to be done, but how? When? But mostly, how? I had no idea what I was doing and just kind of kept putting one foot out in front of the other, hoping that there would be ground underneath, sighing a breath of relief whenever there was.
So, the whole publishing process went fast, maybe too fast. Looking back on it now, I wish I had slowed down and stopped to think about where I was heading with this whole author/publisher thing, but looking back on it now, I'm just reminded of a clip from Christopher Nolan's The Dark Night:
2. I would have launched the books differently. (read: better)
When I first released A New Death, I launched it just as an e-book. That was the extent of what I planned on doing, as I had no idea that printing options were available. Again, see above gif. So I launched A New Death in the Amazon Kindle ecosystem and into the cold, shallow waters of the Nook. I spent more time with the Kindle, as it was A.) more user friendly and B.) the more popular of the two.
Knowing what I know now, I would have liked to publish both the e-book and the paperback at the same time, so if you're still waiting for A New Daybreak, know that you're going to have to wait for me to finish both now. (Sorry.)
3. I would have liked to finish the trilogy before I published them.
Okay, so this one is debatable. And it comes solely from the perspective of me trying to sell and market my books. (Spoilers: I like getting paid for my work.) But my thinking behind this point is this:
People are more apt to dive into a series that they know they can finish and not wait on the author to finish writing them. (Looking at you George R. R. Martin…)
Again, I'm still personally up in the air about this one, but hey, there it is.
4. I wouldn't have wasted time on e-readers other than the Amazon Kindle.
Remember when I mentioned the Barnes & Noble Nook earlier?
I think I can count on both my hands how many copies I sold on that thing. (That's less than ten for all my fellow public school kids.)
And the Kobo? Aww jeez, Rick.
Amazon is the Pickle Rick of the e-reader world.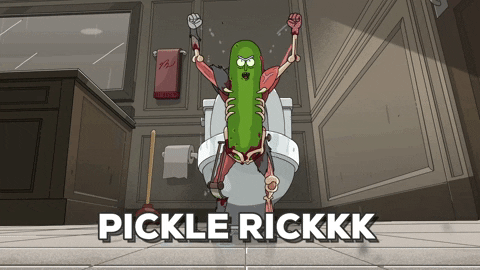 5. I would have spent more time on the print books.
When I first started, print wasn't even on the radar. I thought that was only something you could get from an actual publisher or one of those vanity publishers, which I knew to stay well clear of.
But there was Amazon, goading me onwards, deeper into the jungles of the self-publishing world.
"Hey, you've done e-books with us. Have you met our friend CreateSpace?"
"Why, no Amazon, I haven't. Nice to meet you, CreateSpace."
It was something like that, I think. It gets kinda fuzzy after a few years.
Anyways, the paperback versions of my books have been great for making small waves here in Savannah. I've been able to do book signings and get my books into some cool local shops, something I would never be able to do with an e-book. This all goes back to me slowing down in the beginning and actually doing some research into self-publishing outside of e-books.
6. I would have treated this more like a job.
There was a shift somewhere, where this stopped being "just some cool thing I could do" and turned into "Man, I would really like to do this for the rest of my life." I'm not 100% sure when that happened; I think maybe in between CJ's Story and A New Darkness, or maybe it was there somewhere all along.
I knew eventually though, that I should have been treating it more professionally and more like a job, but still, for some reason I just wasn't all in. I don't know.
But I do know now, that I'm stuck in between the rock and hard place of: having a good, well-paying, providing job that sucks the life out of me everyday, but I do it because I love my family and want to take care of them OR this author job, which grants me fulfillment and I enjoying doing, but the financial side of it is, um, questionable.
Knowing now, what I wish I had known then was, if I had slowed down, and thought about this a little bit more than just publishing some e-book, if I had thought about it as a potential career, and then treated it like one, where could I have been now?
But like they say, hindsight is always 20/20.
Can't say that I would change anything though. It's been a long ride, and I could have made it a little easier on myself, but to think about all I've learned, I think the journey was worth it.
So if you're just starting out, take my advice, or don't. You'll get there eventually and I'll be there waiting to tell you what I've learned in the meantime.
Josh Vasquez